Britney Spears' Instagram is just about the only pure thing in my life right now other than puzzles, cheese, and sweatpants, and yesterday she went ahead and blew up everyone's feed by casually referencing her breakup with Justin Timberlake. While dancing to his damn music.
Let's break her Instagram caption down, shall we? Because truly, it's a work of art.
Part one: "This is my version of Snapchat or TikTok or whatever the cool thing you're supposed to do these days 😅😅😅💃!!!!!"
I mean, the shade towards her fellow TikToking celebs is truly *chefs kiss*
Part two: "As you can see I'm not really dancing folks …… I'm just very bored 🙄."
I've never felt more seen.
Part three: "PS I know we had one of the world's biggest breakups 20 years ago …… but hey the man is a genius !!!! Great song JT ✨ !!!! Pssss if you KNOW WHAT'S GOOD 😜 !!!!!!"
Like…Britney! BRITNEY! BRIT-NEY!
Also, yes, Justin went ahead and dropped a comment on her post. Check it:
As a reminder, these two dated in 1999 and basically invented denim-on-denim in the process. After their breakup in 2002, Justin released the "Cry Me a River" video and fully hired a Britney look-alike in a move best described as petty. The end!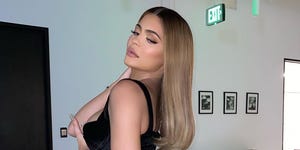 Source: Read Full Article