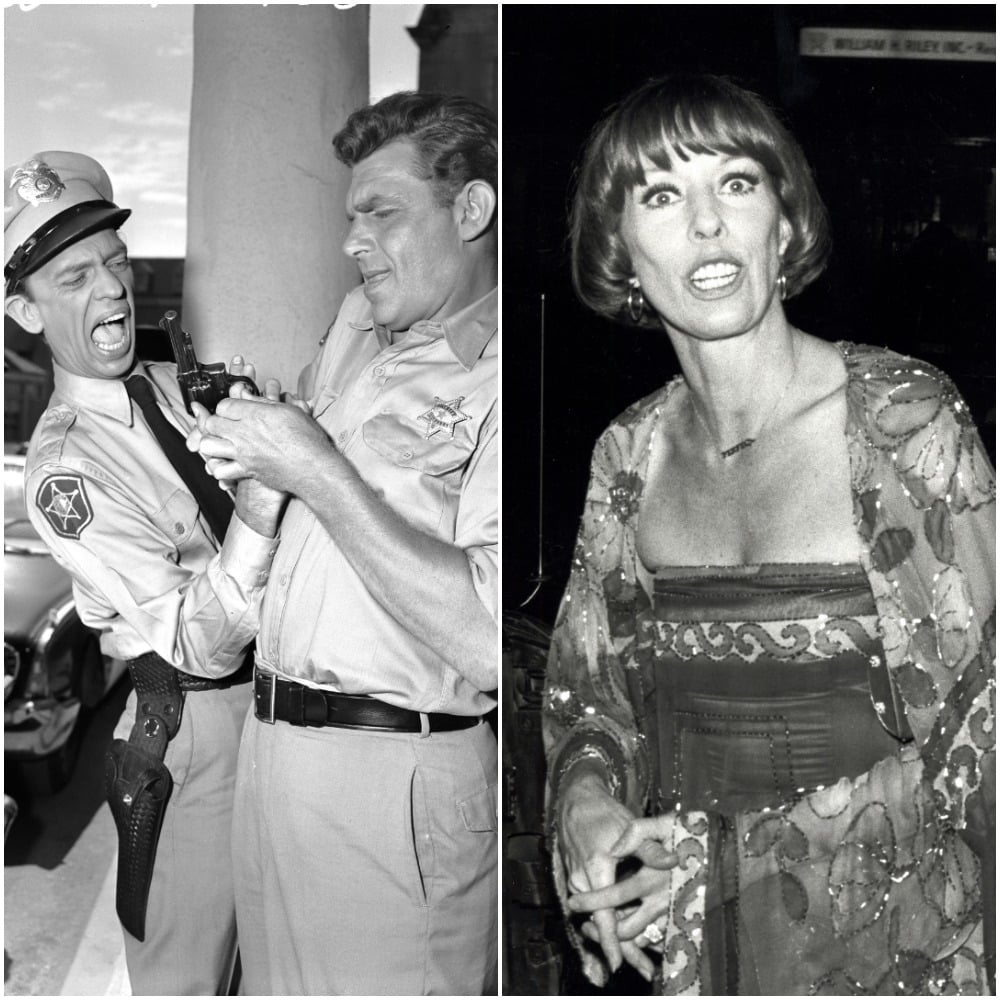 It's always interesting to discover which of our favorite celebrities count one another as bosom friends.
In the case of Carol Burnett, it's a former star of the beloved and classic television comedy, The Andy Griffith Show.
Not only does she count this person as one of her best friends, she asked him to be godfather to one of her children.
Jim Nabors and Carol Burnett met through a fan letter
In her 2016 memoir In Such Good Company, Burnett revealed that she and Nabors connected in 1965 when he was starring on CBS in the military comedy Gomer Pyle, U.S.M.C. The comedian was a big fan of the program and let Nabors know it.
"I loved Gomer Pyle, U.S.M.C.," she wrote. "I watched it every week, along with millions of viewers. I didn't know Jim Nabors personally, but his portrayal of Gomer was not only downright funny, it was touching at the same time."
Burnett shared one episode in which Nabors' portrayal of the humble and naive Gomer Pyle impressed her strongly.
"In one show, Gomer pulled out a guitar and softly sang a beautiful folk song to his girlfriend as they sat in a porch swing," she recalled. "It was a lovely moment. I wrote him a fan letter the next day. The year was 1965, and Jim and I met for the first time shortly after that, when he was in New York on business. We hit it off immediately."
Nabors was Burnett's 1st guest on her variety show
Once Burnett kicked off her own variety show on CBS in 1967, it only seemed natural to ask the Gomer Pyle actor to join her on the debut episode. His own show was still a success in the ratings and Nabors' appearance was a kiss of approval on The Carol Burnett Show.
"When my variety show was about to premiere," she said, "I asked Jim to be our very first guest. I had no idea if we were going to be picked up by CBS for a second season, and when we were I thought, 'Jim's my good-luck charm!'
"He was our guest on the first show every year for the entire 11 seasons," she shared.
Nabors was the Burnetts' daughter's godfather
As natural as it was to have the former The Andy Griffith Show star on her television variety show, it made even more sense for Burnett and her then-husband Joe Hamilton to officially make him part of their family.
At the birth of her daughter Jody in 1967, Burnett wrote, she asked Nabors to agree to be her newborn's godfather. And he did.
"When Joe and I moved to California, I had the chance to see a lot more of Jim, and my fondness for him only grew.," she explained.
"In a funny way, I felt he was the brother I never had, and as if to prove it, I asked him to be my daughter Jody's godfather after she was born."
The two remained friends until Nabors' death in 2017.
Source: Read Full Article