After colliding head-to-head with Los Angeles Clippers' Patrick Beverley, the Phoenix Suns shooting guard is rushed to the locker room where he gets two stitches before coming back to the court.
AceShowbiz –Kendall Jenner's boyfriend Devin Booker didn't let an injury get in the way of showing his best performance in a game. The NBA star was left bloody after an accident during Game 2 of the Western Conference Finals, but he managed to push through and returned to the game after getting two stitches.
On Tuesday night, June 22, the 24-year-old athlete collided head-to-head with Patrick Beverley, who accidentally head-butted his nose, during the third quarter of the game against the Los Angeles Clippers. As blood quickly began pouring out of his nose bridge, he was rushed to the locker room where he received two stitches. The incident also created a cut on 32-year-old Patrick's forehead which prompted him to be transported to the locker room as well.
Soon afterward, however, Devin returned to the Phoenix Suns Arena court during the start of the fourth quarter and received a standing ovation from the audience. His strong endurance paid off as his team ended up defeating the Clippers with 104-103, with center Deandre Ayton scoring the winning shot.
Giving an update on his injury after the game, the boyfriend of the "Keeping Up with the Kardashians" star told reporters when he left the court he was informed his nose wasn't broken but "just a little crooked."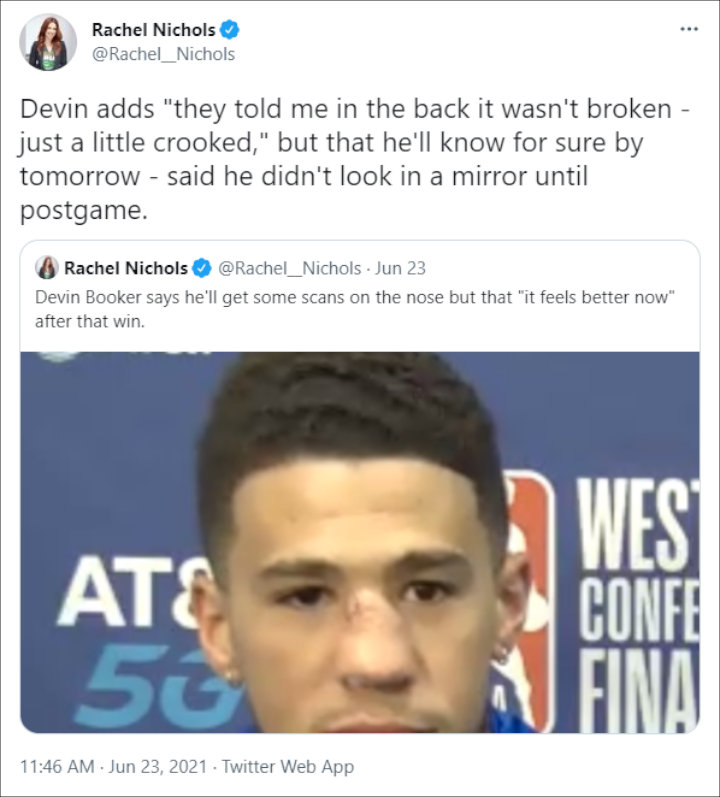 Devin shared an update of his injured nose.
According to the Phoenix Suns' coach Monty Williams in the post-game press conference, the athlete "was probably playing with a great deal of pain." He added of the injury, "I thought he broke his nose when I saw it. I worried about the blood continuing to flow."
Devin himself thought that he might get a protective mask until it heals and an X-ray on his nose. The NBA player went on to note that he didn't take a look at his nose until the game was over. "My first time seeing [my injury] was after the game," he confessed.
Source: Read Full Article