In a piece run early in Joe Biden's presidency, The New York Times declared that "image-making" and "costume" are both "a key part of political theatre." This is a concept that Vice President Kamala Harris and First Lady Dr. Jill Biden decline to discuss, but seem to tacitly embrace, according to the outlet. For Dr. Jill Biden, in particular, her sartorial intensions have remained specific. 
The first lady is a fan of established U.S. designers and American designers-on-the-rise. She seems especially drawn to garments from those who observe sustainability, and she repeatedly wears her best outfits as often as the mood strikes. (per Town & Country and Insider). In other words, she appears to be deeply into eco-fashion. 
Dr. Biden's style typically tends toward a monochromatic look. She is fond of floral prints and matching dress and coat or jacket ensembles. But her fashion isn't always frugal. Yes, this focused fashionista — known for her impeccable taste and unharnessed wit — often buys the very best. Keep reading to witness the wardrobe highlights and corresponding costs of Dr. Jill Biden's most exorbitant accouterments. 
Sure, this dress is expensive, but Dr. Jill Biden has worn it at least three times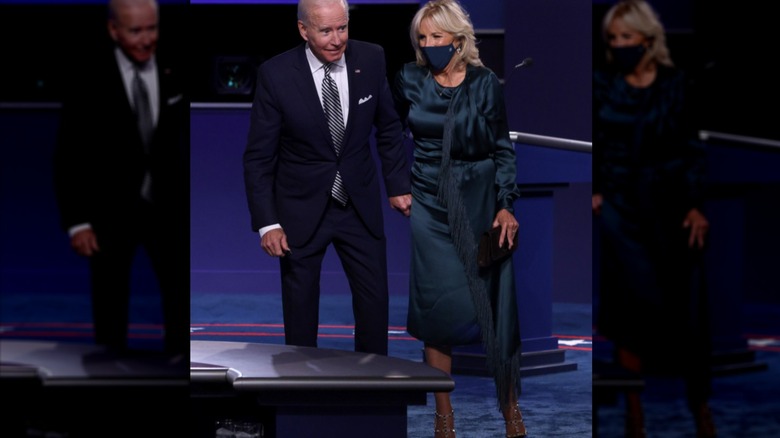 At the first presidential debate between Joe Biden and Donald Trump in September 2020, Dr. Jill Biden wore a popular cocktail dress by Gabriela Hearst, dubbed "The Kelley," according to Footwear News. The gown was from the designer's Fall 2017 line and was sold out at the time of the outlet's report, even at the lofty price tag of $1,585.
Dr. Biden had been seen in this forest-green frock a couple of times prior to the debate. She wore the elegant garment to the Save The Children Illumination Gala in 2017 and she also wore the same dress during an MSNBC news appearance in February 2020 when she defended her husband and son against accusations from Donald Trump.
At first glance, the long-sleeved, midi-length frock seems like a simple yet classic sheath. But, upon closer inspection, the sheeny dress, which is made of recycled silk, includes an unexpected stretch of fringe across its bodice. This funky detail gives this Gabriela Hearst contribution a bit of special oomph. The first lady accessorized with a sharp pair of strappy, studded heels from Valentino Garavani, which boasted a similarly eye-popping retail cost of $995. 
During the debate and to coordinate with her dress, Dr. Biden also rocked a dark-colored Athletica face mask, a sign of the times as the world battled COVID-19.
Jill Biden rocked a pricey floral Dolce & Gabbana frock for the second Presidential debate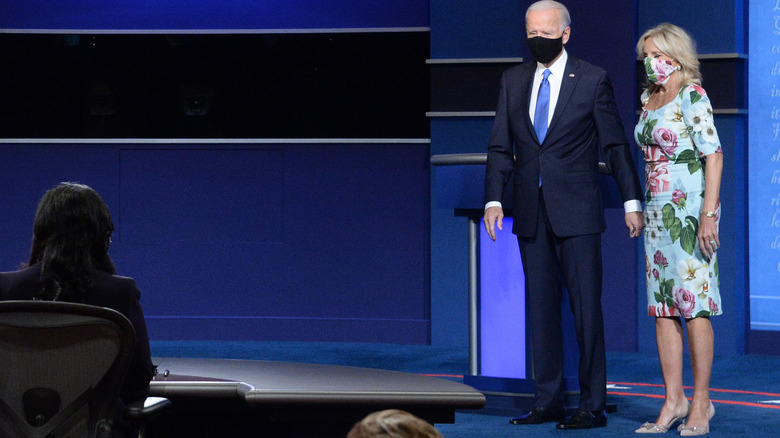 For the second presidential debate that took place on October 22, 2020 in Nashville, Tennessee, Dr. Jill Biden donned a light blue floral dress from Dolce & Gabbana's "light therapy" collection. Prior to this event, Dr. Biden wore the same dress during a campaign stop in Columbia, South Carolina, on February 29, 2020, per Vogue.
Stand-out features of the upscale Dolce & Gabbana piece include its scooped out neckline, its elbow-length sleeves, and its knee length. To augment the fitted frock, the soon-to-be first lady rocked a combination of pearl and beaded bracelets on her right arm. In keeping with COVID-19 preventative measures, Dr. Biden kept a face mask that matched her spring-like frock in place.
Also of note: Although Dr. Biden's Dolce & Gabbana dress cost $2,195, and her shimmering "Katience d'Orsay" Jimmy Choo heels in nude were priced at $995, the lifelong educator also wore a bauble that was beyond compare, yet typically part of her attire. The Daily Mail sourced the accessory that Dr. Biden wore on her left wrist — the Panthere de Cartier gold watch, which cost a whopping $20,700. Wowza!
The high cost of Dr. Jill Biden's Oscar de la Renta look didn't stop it from selling out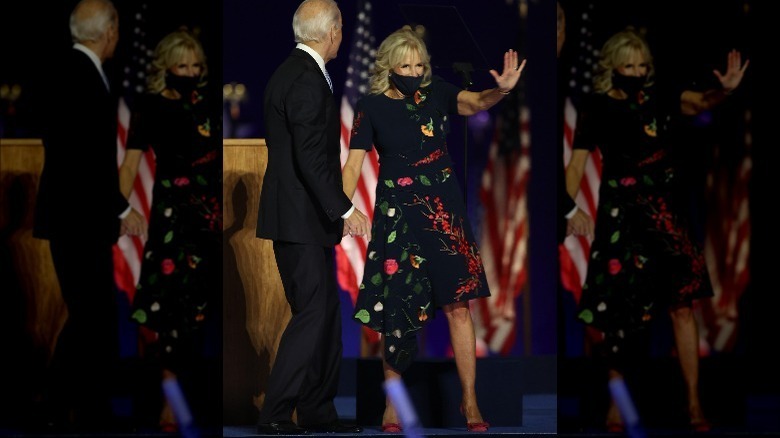 For President-elect Joe Biden's hometown victory speech in November 2020 in Wilmington, Delaware, Dr. Jill Biden chose to wear a creation from Oscar de la Renta. She likely did so in the spirit of fellow first ladies Jacqueline Kennedy, Hillary Clinton, Laura Bush, and Michelle Obama, all of whom chose to wear his garments for special occasions, states Footwear News. 
Dr. Biden looked her best after dressing in the storied Dominican designer's frock featuring elbow-length sleeves and embroidered pink, yellow, and orange flowers placed against a navy blue background. For the joyous event held at Chase Center, Dr. Biden happily celebrated her husband's big win while looking proud in the pricey frock, which cost $5,690 and which sold out "in a matter of hours," stated Insider. She paired the evocative dress with pink heels topped by floppy pink bows from Jimmy Choo. Called the "Katience" pumps, these shoes were likely a nod to 1960s high fashion (via Footwear News).
Months later, and just before the G7 Summit in 2021, Jill Biden called on the designer dress to do double duty while she was in England when she donned the Oscar de la Renta dress again to attend a performance at Cornwall's Minack Theatre alongside Carrie Johnson and Brigette Macron, according to Daily Mail. This time, Dr. Biden sported flats since the occasion called for climbing the steep steps of this century-old, cliffside open-air entertainment complex that juts out into the sea.
Most people would need a small loan to look as stunning as Dr. Jill Biden did at this COVID-19 memorial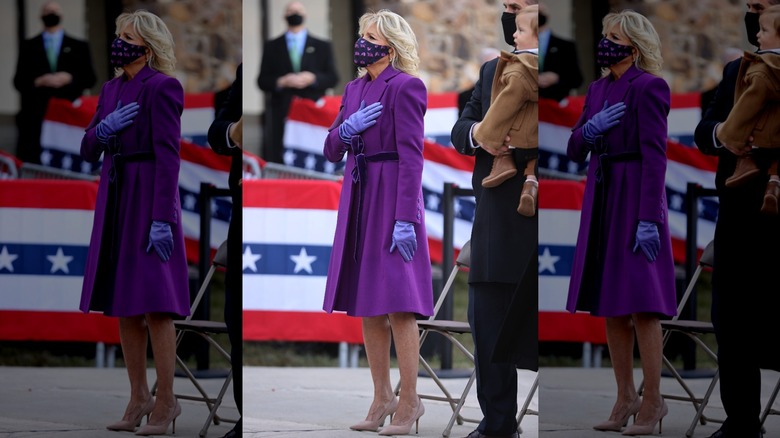 The day before the 2021 presidential inauguration, Dr. Jill Biden looked regal as she joined President-elect Joe Biden, Vice President-elect Kamala Harris, and future Second Gentleman Doug Emhoff to take part in a special COVID-19 memorial held at the iconic Lincoln Memorial, meant to commemorate the hundreds of thousands of American lives lost to the pandemic. For the event, Dr. Biden was swathed in Mexican-American designer Jonathan Cohen's striking "Unity" dress and matching "Unity" wrap coat. The first lady also rocked a face mask made of a coordinating print that was created by using the designer's left-over remnants, stated Bustle. 
"It is a true honor to have Dr. Biden wear Jonathan Cohen as the first family arrives in Washington D.C.," Cohen said on Instagram (via Bustle). "I am beyond humbled to play a small part in this future administration."
 Dr. Biden was royalty-worthy in her stand-out ensemble. The outfit was devised of several shades of purple, creating the teacher extraordinaire's monochromatic look. The classic dress included a matching A-line coat that introduced a slightly darker velvet tie at the waist. Also, her purple gloves were several shades lighter than the rest of the stunning outfit.
The awe inspired by the look was matched only by its price, totaling more than $6,000, per Insider. The "Unity" dress cost $2,295 and the matching "Unity" coat was priced at $3,895. Both garments come from designer Cohen's fall/winter 2021 collection, according to ET.
Meaningful florals adorned Dr. Jill Biden's priceless inaugural ensemble by Gabriela Hearst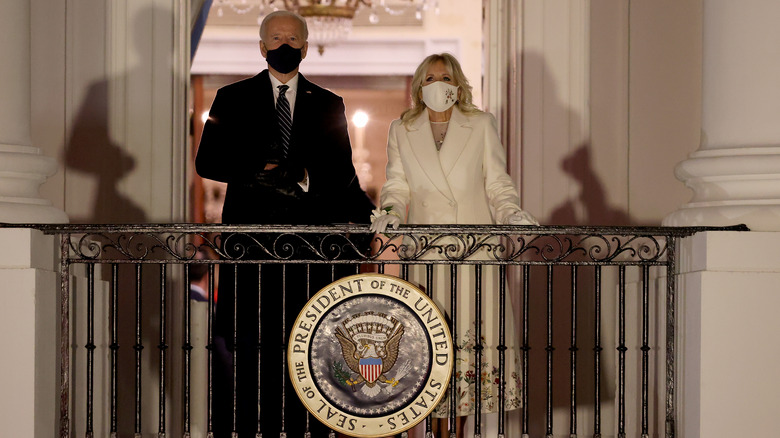 For inauguration night activities on January 20, 2021, Dr. Jill Biden wrapped herself in an outfit designed by Uruguayan-American Gabriela Heart, states CNN. The ensemble — which introduced an ivory cashmere coat along with a matching dress and gloves — was made expressly for this momentous occasion and all while subscribing to eco-fashion sensibilities.
The mastery was in the details of the appealing ensemble. It took nimble dressmakers up to four hours to embroider each of the flowers appearing on the two garments. The coat and dress pridefully carried each state and U.S. territory's flower, especially so with the bloom representing the Bidens' home state of Delaware, stitched "at heart level." From there, "the flowers branch out," Hearst shared on Instagram. Meanwhile, the coat's hidden detail sewn probably means the most to the inveterate educator. On the lining, Hearst's staff embroidered a favorite Benjamin Franklin quote, "Tell me and I forget. Teach me and I remember. Involve me and I learn."
More flower power completed Dr. Biden's overall sartorial statement as the outfit was accessorized by a white, fresh flower wrist corsage from her husband. This tradition began on Valentine's Day years ago, states People.
Indeed, flowers appeared everywhere. Dr. Biden even wore them on her ears thanks to the $8,750 floral diamond and sapphire earrings by Ruchi New York. Now, those are two very rare blooms!
Dr. Jill Biden looked magnificent in turquoise tweed at her husband's inauguration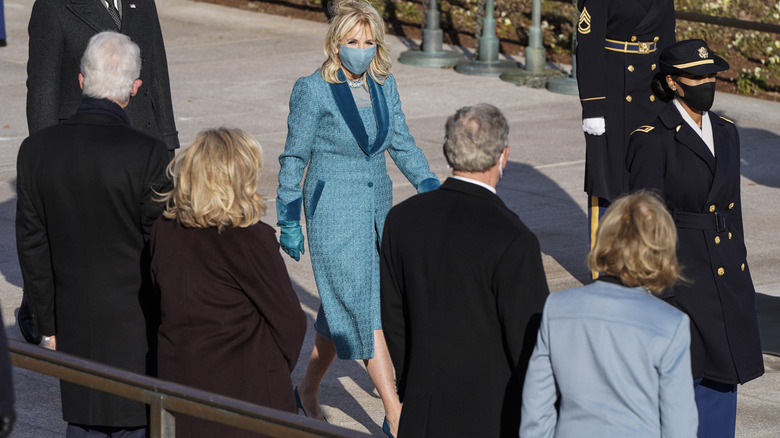 When she stepped into her first lady shoes during the official inauguration of her husband, President Joe Biden, Dr. Jill Biden was in her fashion element. She kicked off the big evening by stepping into a sensational sartorial statement: A custom-made coat and coordinating dress made of turquoise blue tweed by Markarian, according to Harper's Bazaar. The eye-catching, monochromatic outfit was created under the auspices of the brand's New York-based founder, Alexandra O'Neill. 
Dr. Biden's couture dress with its knee-high, scalloped skirt curried favor by way of an exquisite neckline decorated in a splash of Swarovski pearls and crystals sitting above a sensual sheer panel. The garment was paired with a matching coat embellished by luxurious velvet cuffs, velvet pocket coverings, and deep v-neck velvet collar. This outer layer was surreptitiously treated to a sprinkling of Swarovski crystals, per Vogue. So was the dress.
No cost was attributed to Dr. Biden's stunning, custom-made inauguration ensemble — which also includes dark aqua leather gloves — but WWD did state that Markarian designs begin at $995. This one was more than likely in a much higher price bracket, especially since O'Neill oversaw the entire creative process. As for the result? "After a sleepless night [before finishing], the company's founder Alexandra O'Neill was elated to see Biden's chosen outfit," WWD said. No surprise here!
All you need is love (and around 2k) to rock this Dr. Jill Biden look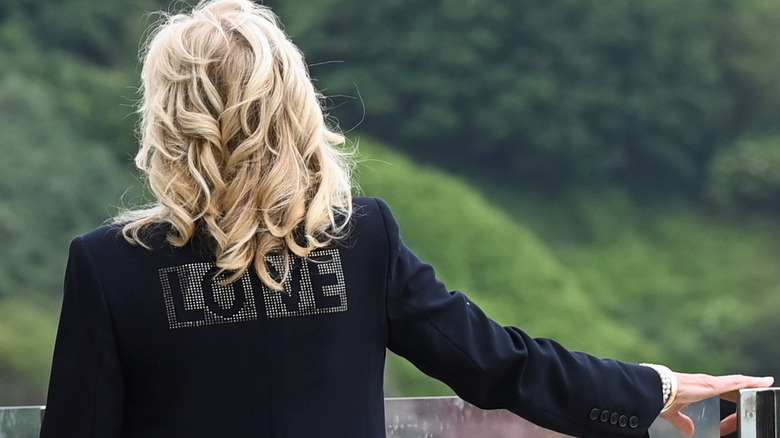 For a pre-G7 Summit meeting with British Prime Minister Boris Johnson and his wife, Carrie Johnson, President and Dr. Biden traveled to the fishing village of St. Ives, Cornwall, per C-Span. For the intimate June 2021 get-together, the first lady wore a version of Texas-born Brandon Maxwell's "Audrey" fitted dress ($1,390). In addition, the pretty frock was half covered by a black Zadig & Voltaire blazer (498 Euros or $590), emboldened on the back by rhinestones placed between Dr Biden's shoulder blades that spelled "LOVE." 
No doubt, it was the less pricey creation that caused the most attention. As Vogue stated, "The look felt like a subtle riposte to Melania Trump's infamous [Army green] 'I Really Don't Care, Do U?' jacket that she controversially wore in 2018 to visit a migrant-child detention center, with Biden's version clearly marking a new and more inclusive era for America on the world stage."
While in Cornwall, Dr. Biden explained the reason she chose to wear the "LOVE" blazer at that juncture. "I think that we're bringing love from America. … This is a global conference, and we are trying to bring unity across the globe and I think that's important right now, that people feel a sense of unity from all the countries and feel a sense of hope after this year of the pandemic," she told reporters.
Queen Elizabeth is in good company with a perfectly turned out Dr. Jill Biden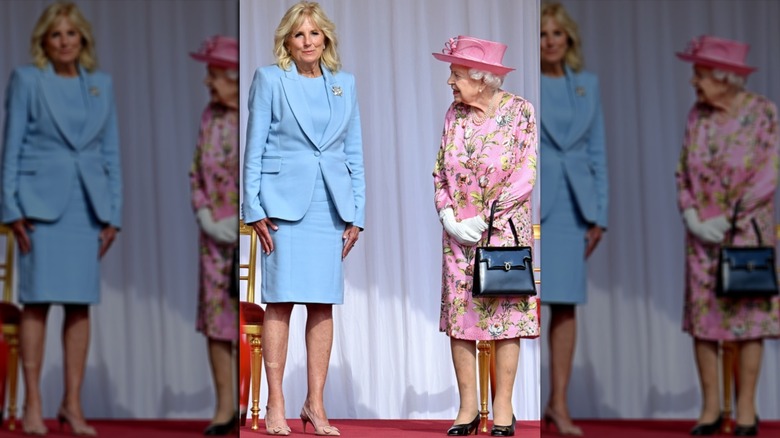 On June 13, 2021, Dr. Jill Biden and President Biden attended a special soiree given by Queen Elizabeth II at Windsor Castle. For the occasion, Dr. Biden slipped into a medium blue Adam Lippes sheath and matching jacket, the set of which cost $1,000, according to the Daily Mail. 
With her choice of wardrobe for the highly anticipated gathering, Dr. Biden once again picked an effective American designer to show off her lean figure. Per Vogue, the outfit consisted of a blue blazer with a one-button closure and a matching sheath dress. Her apparel was nicely complimented by President Biden's dark blue suit and matching blue tie while coordinating well with Her Majesty's floral print frock and pink hat with its upturned brim. 
Upon arriving from the G-7 Summit in Cornwall on Marine One, the turned out first lady and the dapper American president were welcomed by an official Royal Salute from the Queen's Company First Battalion Grenadier Guards with their trademark tall black fur hats, each made from a black bear's hide. After that spectacle, the well-dressed couple headed inside the queen's castle for tea (via Daily Mail).
Of note: Dr. Biden proved her dedication to sustainability when she chose to be garbed in the Adam Lippes outfit for her royal visit. Only a few months before meeting with Queen Elizabeth, the first lady wore the pleasing powder blue designer suit during an Air Force One flight.
A $700 pair of boots helped Dr. Biden make an important statement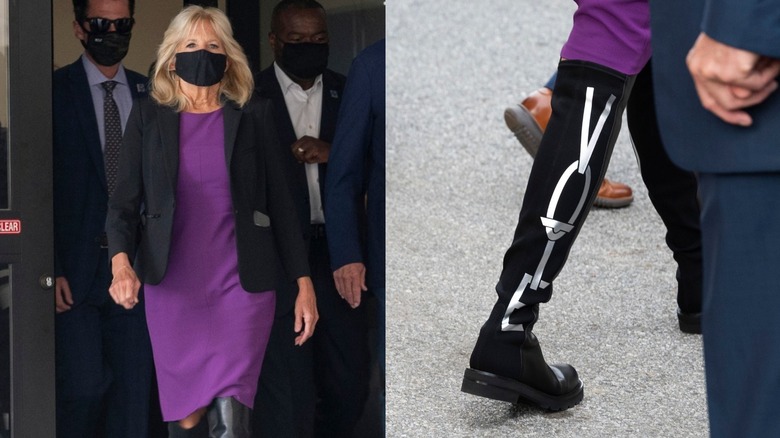 Dr. Jill Biden didn't need to say anything when she wore her limited edition Stuart Weitzman "VOTE" boots to the polls in Delaware's state primary. She also put on the statement boots during other important campaign events ahead of her husband's victory as President of the United States, per Vogue. 
In fact, Jilly from Philly's over-the-knee, black stretch-leather boots costing $695 caused this lively lady to become the talk of the nation. Without a doubt, Dr. Biden absolutely rocked the distinguished looking, flat-heeled footwear that carried its succinct message in silver lettering down the panel of each nifty boot. Dubbed the "5050 Vote Boots," these limited edition wearables allowed for all net profits to be donated to the I am a voter nonprofit organization, per Refinery29.
Although Dr. Biden chose the black boots, a silver version was on offer in this limited edition design that sold out lightening fast since, initially, only about 100 pairs had been made available, according toMarie Claire. Talk about a coveted collector's item!
Dr. Jill Biden proved she's a highly regarded fashionista at the 2009 Obama inaugural ball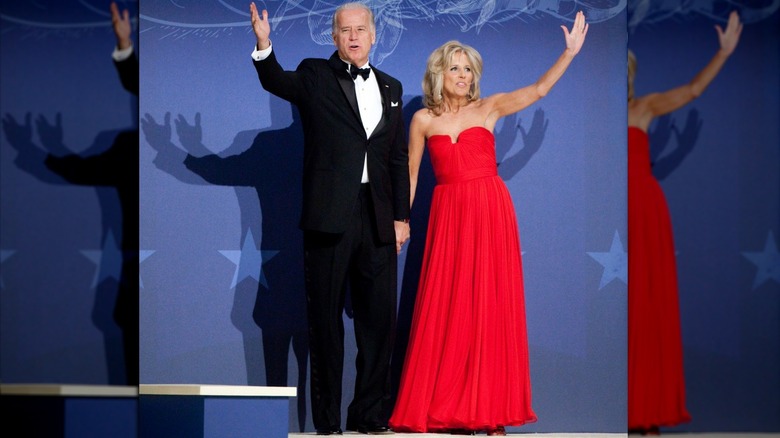 Dr. Jill Biden initially proved her fashion prowess to the world when she appeared at the 2009 inauguration ball honoring new President Barack Obama. In fact, at the time, HuffPost commented, "All eyes were on Michelle [Obama] last night, but Jill Biden may well have won 'best-dressed.'" 
For the victory ball, the then-vice president's wife went for a bold look by donning a blazing red, strapless ball gown with a flattering gathered skirt, high waisted bodice, and modified sweetheart neckline created by illustrious Lebanese designer Reem Acra (per The Philadelphia Inquirer). This delicious dress with its sexy silhouette caused its shapely ambassador to get noticed by fashion critics, far and wide.
As for the price of Dr. Biden's vibrant Reem Acra ball gown, there is no trace of the exact cost to be found. However, as of this writing, the Beirut-born, New York-based designer's special occasion formal wear — and specifically her eponymous bridal wear — runs between $4,000 and $10,000.
Source: Read Full Article