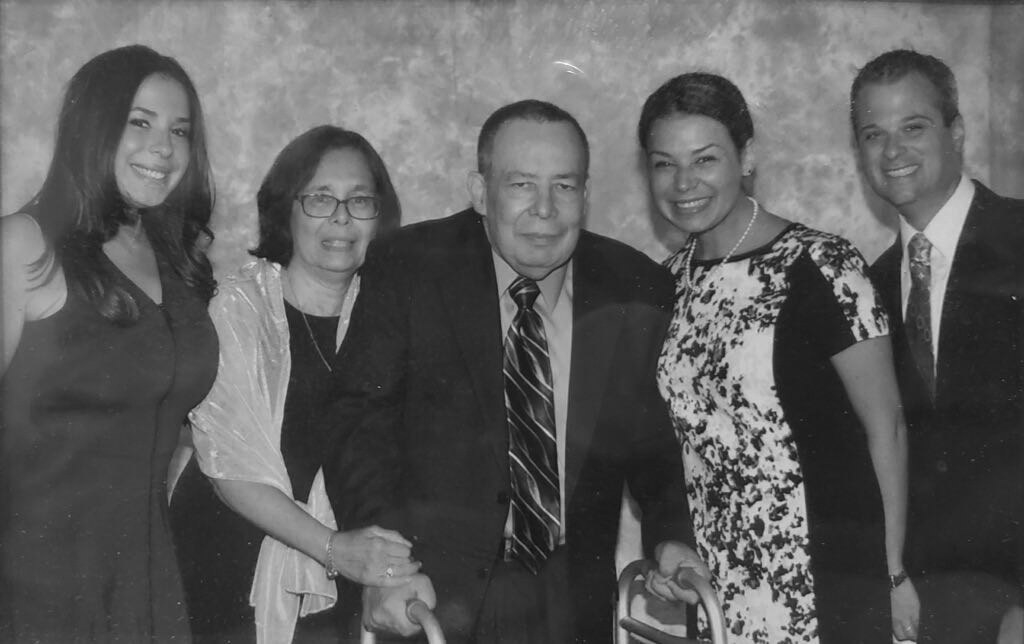 Joel Strom and his family
The journalists at BuzzFeed News are proud to bring you trustworthy and relevant reporting about the coronavirus. To help keep this news free, become a member and sign up for our newsletter, Outbreak Today.
Losing the use of his leg as a result of cancer more than 20 years ago did not stop Joel Strom from living his life. The Long Island grandfather drove himself to work every day, was obsessed with his grandson, and loved devouring lobster with his friends in the summertime.
Strom, 70, who also suffered from Parkinson and some respiratory issues, died this month as a result of COVID-19, the disease caused by the novel coronavirus, his daughter told BuzzFeed News.
Friends and family are remembering Strom as "a wonderful father, wonderful husband, and wonderful grandfather, and the best friend that you could ever have."
Strom was not tested for COVID-19, but his daughter Amy Strom told BuzzFeed News a doctor told her father he was a presumed positive case of COVID-19. Amy Strom said he had most symptoms of the disease, including a prolonged fever and a loss of smell and taste. He died at his Long Island home on April 6, 2020.
The family has not yet received the death certificate, and Amy Strom said they were told to expect a delay because of how many deaths are currently being processed.
She, too, has symptoms of COVID-19, she told BuzzFeed News Tuesday.
"My dad was hands down one of the nicest, sweetest [people] anyone had ever met. He was literally, like, a selfless human being," Amy said during a phone call. "He wanted to make people laugh all the time — he wasn't funny at all. He was not funny, but he'd try… Dad jokes. He tried so hard … He just wanted to make people happy."
He worked as an electrician and sold electrical supplies, and continued to work even after he'd lost use of his leg. "When people hear [he lost use of his leg], they would think he was housebound, but he wasn't," Amy said. "He drove to work every day. This man did so much… He was just unbelievable."
Strom had two daughters, the oldest of whom is expecting another child in August, and Amy Strom said her dad was "such a girls' dad."
"I would ask him like clothing questions and, like, he didn't care at all. He had no fashion sense and genuinely didn't care but would, like, pretend to care or only care because it was me asking," she said.
He also loved Mickey Mouse, his friends Bruce and David, and his grandson. "My dad was obsessed with him," Amy said of her nephew.
In late February, Amy said Strom's family and friends threw him a big surprise 70th birthday party. "How crazy that like right before it all happened he was able to see all of his close friends and family," Amy said.
One of his longtime best friends, Donna Kopf, last saw Strom at the party. The two had been best friends since high school, and in a phone call with BuzzFeed News, she said she and her husband and Strom and his wife Linda would get together to spend summer weekends together, and that the highlight was always watching Joel eat lobster.
"That was his favorite activity. I will definitely miss that, because he had a definite energy and skill where he put all of his complete attention to the task," she said.
Because he couldn't walk up the stairs to stay in the guest bedroom at her home, Kopf said they would carry mattresses downstairs for Strom and Linda to sleep on. Recently, Kopf said she redid the downstairs bathroom and called Joel to tell him.
"[I said,] 'I just redid your bathroom for you, Joel.' And now he wasn't even able to see it," she said.
Both Kopf and Amy Strom said despite serious health issues and losing use of one leg, Strom never complained.
"He was that kind of guy, like, he just persevered through it all," Kopf said. "And you never heard him complain… He had such a great sense of humor and he's just an all-around fabulous, fabulous person… I mean, he just touched everybody's heart."
More on this
She's A Widow At Just 31. She Has A Message For You About The Coronavirus.

Julia Reinstein

·

April 20, 2020
She Began Every Day By Calling Her Daughters. She Was Cut Off From Family While Dying Alone Of The Coronavirus.

Henry J. Gomez

·

April 20, 2020
A 5-Year-Old Girl Fell Ill With A Headache And Fever. Weeks Later, She Died Of The Coronavirus.

Clarissa-Jan Lim

·

32 minutes ago
Addy Baird is a political reporter for BuzzFeed News and is based in Washington, DC.

Contact Addy Baird at [email protected]

Got a confidential tip? Submit it here.
Source: Read Full Article