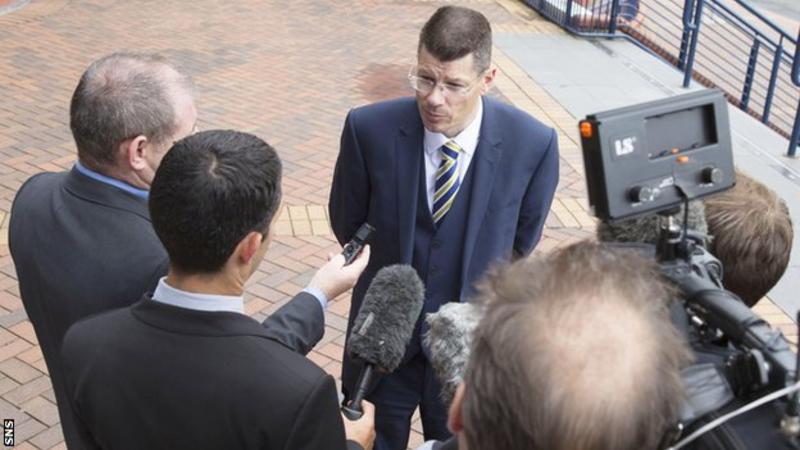 Chief executive Neil Doncaster is "entirely mystified" by what evidence Rangers have against him and the SPFL, and denies any allegations of bullying.
Rangers have said they can prove a "lack of fair play" in April's SPFL ballot to end the lower leagues and have forced an EGM on 12 May. They also called for Doncaster and SPFL legal adviser Rod McKenzie to be suspended.
"It has been several weeks and we've had absolutely no idea what it was that we were supposed to have done wrong," Doncaster told Sportsound.
"We've had all sorts of rumour and innuendo, vague allegations but nothing specific. It's not even a question of evidence. We don't even know what the charges are.
"I'm hearing that this alleged dossier of evidence is due to be circulated this week. We look forward to seeing what's in it because the sooner we can get this dealt with and move on the better."
Rangers will show evidence next week
'Why is SPFL so worried about inquiry?'
Loans or advances? SPFL accounts 'shed light' on payments
Doncaster said he assumed Rangers had something "pretty powerful" given their actions. However, he insisted that nobody had come to the SPFL with any claims of bullying.
"It's extremely disappointing that these vague allegations are out there with no one actually coming forward and saying 'I was bullied by someone within the SPFL staff'," he said.
"I do not believe for a moment that anyone has been bullied by a member of the SPFL staff. Least of all myself."
In a wide-ranging interview on BBC Radio Scotland's Sportsound, Doncaster also said:
Hearts chair Ann Budge is "mistaken" in saying she approved a loan while on the SPFL board in 2017 and that the league "unequivocally did not" do so that season;
Instead, Motherwell and Partick were each awarded an "advance fee payment" of £150,000 that term as compensation for having one fewer Old Firm home game. Celtic agreed to forgo £300,000 to cover that;
Those were subject to VAT, were invoiced, and did not need to be repaid – so could not be loans;
Around £7m is in the SPFL's accounts and will be released to Premiership clubs when the season is completed;
The SPFL could "in principle" have made "individual loans to individual clubs" but it would have been impossible to do so for all 42. They also could not be satisfied that each club would be a "good credit risk" and that other clubs would have been left liable;
Rangers' resolution was ineffective because you "cannot force" a board to make loans that may not be in the company's best interests;
Conversations were had about voiding the season, which would have left the league "in a right mess";
Two lower-league clubs informally asked for a loan prior to the vote to end the season. Those requests have since been withdrawn;
He is "entirely relaxed" about the fact Premiership clubs met without him on Friday;
All TV money has been received but he wouldn't comment on whether any could be clawed back;
"Frank conversations" are going to be had with broadcasters and sponsors.
Real the full transcript of Doncaster's interview with Richard Gordon here.
Source: Read Full Article