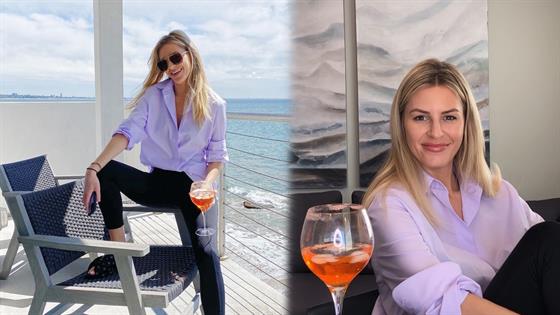 Let's face it: Stars aren't all that much like the rest of us.
They have fancier clothes, larger car collections and are more likely to fly private and be friends with Oprah Winfrey. And, unless your home has actual wings to it, your stay-at-home situation probably doesn't look all too much like, say, Chrissy Teigen's.
But there is at least one way you can quarantine like a celeb.
With gyms closed nationwide and personal trainers keeping a safe distance, stars have had to get just as creative with their workout sessions as the rest of us.
Ashley Graham put pro Kira Stokes on Facetime so she could log a lower body workout from her mom's place in Nebraska. Molly Sims is doing weighted lunges with champagne bottles and squats with her three kids as barbells. And Tracee Ellis Ross is just continuing to be fabulous.
View this post on Instagram
Your favorite auntie working on her hot girl quarantine #fbf
A post shared by Tracee Ellis Ross (@traceeellisross) on
The good news: now that everyone from personal trainers to the top instructors at Hollywood's fave boutique studios are taking their expertise virtual anyone with a solid internet connection has access to the exercises stars rely on to stay sculpted. Want to try Selena Gomez's go-to toning moves? No prob. Curious about how Blake Lively is put through her paces? Check it out.
We're marking Wellness Wednesday by rounding up enough beloved celeb workouts options to keep you busy through the rest of this social distancing season and beyond—and you can try most of them for free. So scan through our list below, sign online and sweat it out.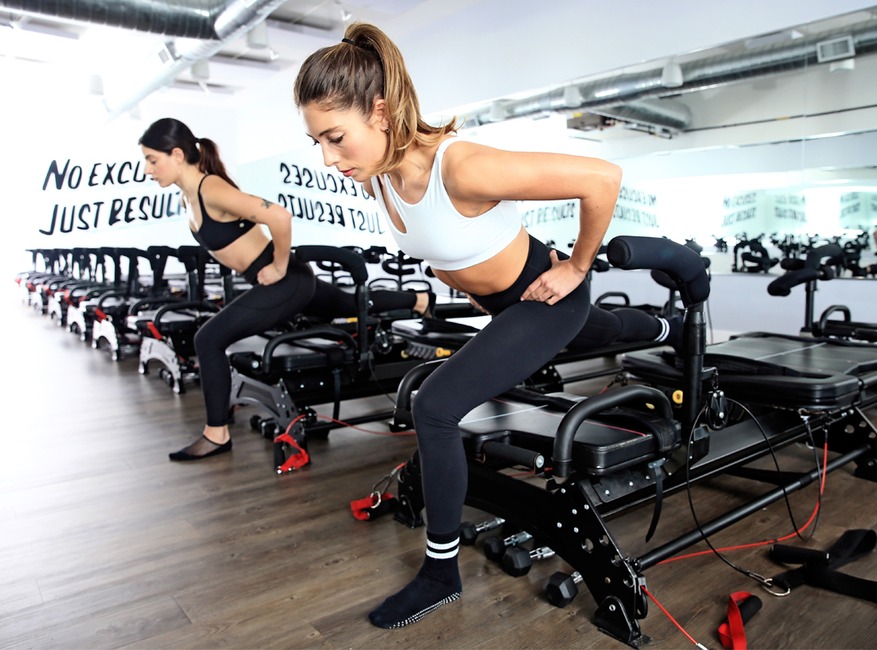 SLT
SLT
Slippery socks or gliders and resistance bands replace the megaformer in the 45-minute Zoom-based [email protected] version ($20 per class or $90 for five), but the strengthen, lengthen, tone promise that attracts everyone from Sofia Vergara to Karlie Kloss remains the same. Even sans machine, instructors are able to target those slow-twitch muscle fibers through sometimes painfully snaillike fat-burning movements that leave your core, legs and arms just as quivery. Want to try before you buy? Test the half-hour option on Instagram Live. (sltnyc.com)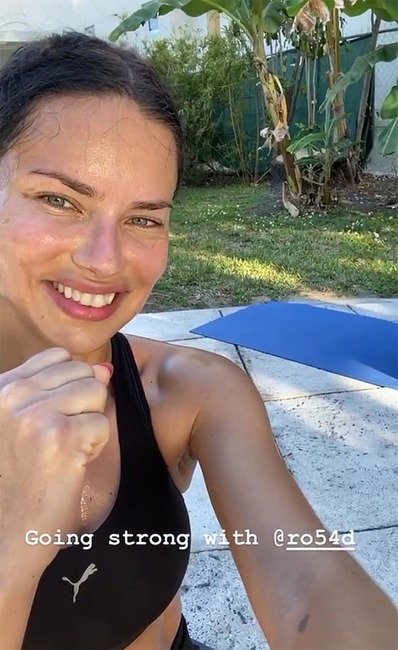 Instagram
54D
Devotees to this nine-week Miami-based high intensity group training program put in the work (the name comes from the 54 days they commit to), so show up to founder Rodrigo Garduño's free hourlong Instagram Live sessions ready to sweat. The former soccer player leads upwards of 30,000 exercisers (including model Adriana Lima) through 40 minutes of pushups, sit-ups, jumping jacks, lunges, core, planks, squats from his Florida backyard. And with nightclubs closed it may just be the town's hottest attraction. (54days.com)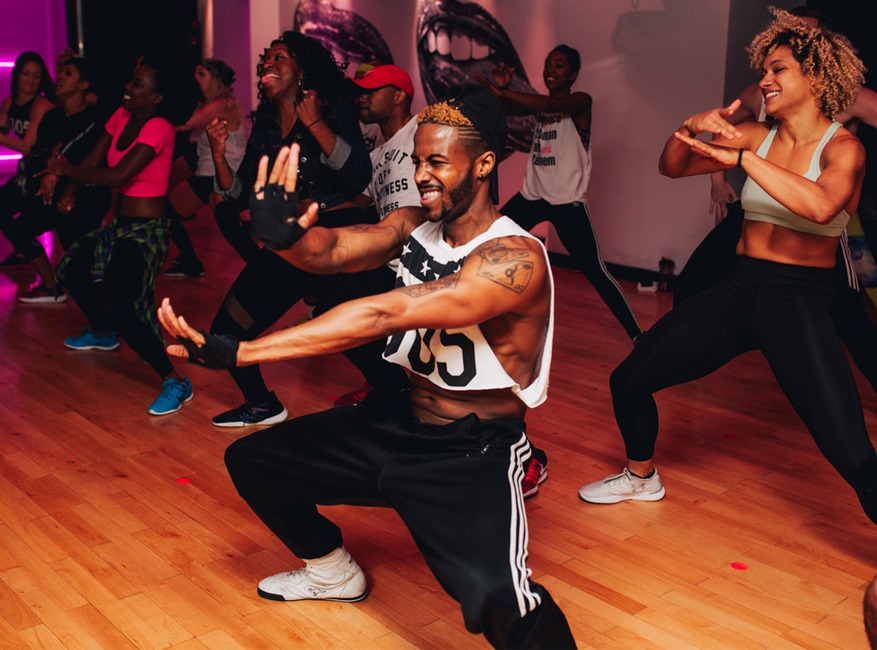 305 Fitness
305 Fitness
With their seven studios shuttered, the NYC-, Boston- and Washington, D.C.-based brand is taking their party to the Internet. Twice a day—at 12 p.m. and 6 p.m. EST—community members can head over to their YouTube channel to take the signature 55-minute dance cardio class that has stars like Miley Cyrus and Drew Barrymore working it. Or, as their site puts it, "the bread-and-butter ass shaking, beat bumpin' sweat sesh that made us famous." (305fitness.com)
Article continues below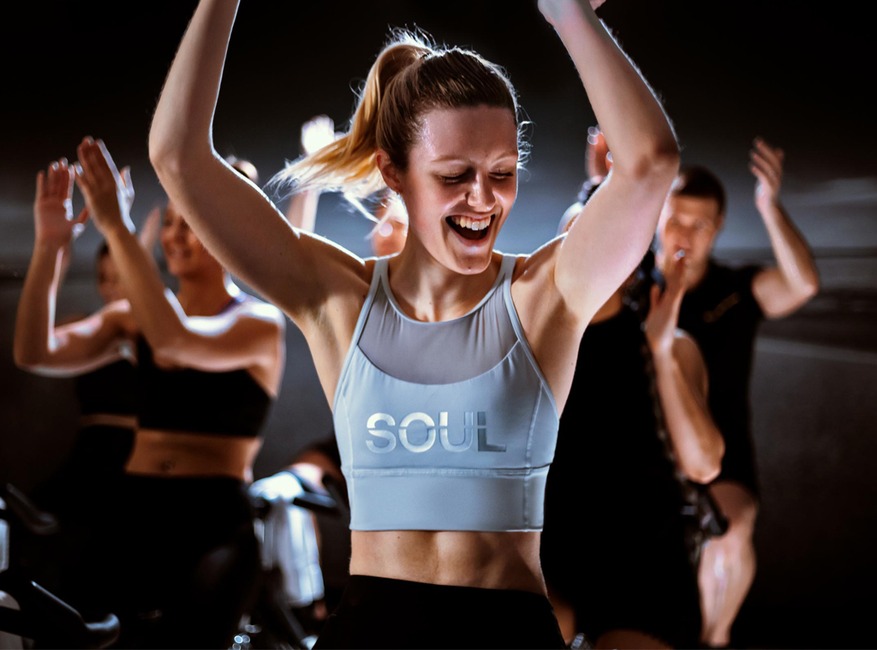 SoulCycle
SoulCycle
No bike, no problem. The OG indoor cycling studio that's attracted the likes of Beyoncé, Lea Michele and Oprah Winfrey to tap it back at their nationwide classes is rolling with the current climate. SiriusXM listeners can tune into SoulCycle's channel for equipment-free, music-fueled hourlong cardio sessions or log on to their Off the Bike program, where instructors host everything from guided meditations to barre fusion to plyometrics from their own Instagram pages every Tuesday, Thursday and Saturday. A new schedule is released each Monday at noon—i.e. when riders used to clamor for front row spots in their fave class. (soul-cycle.com)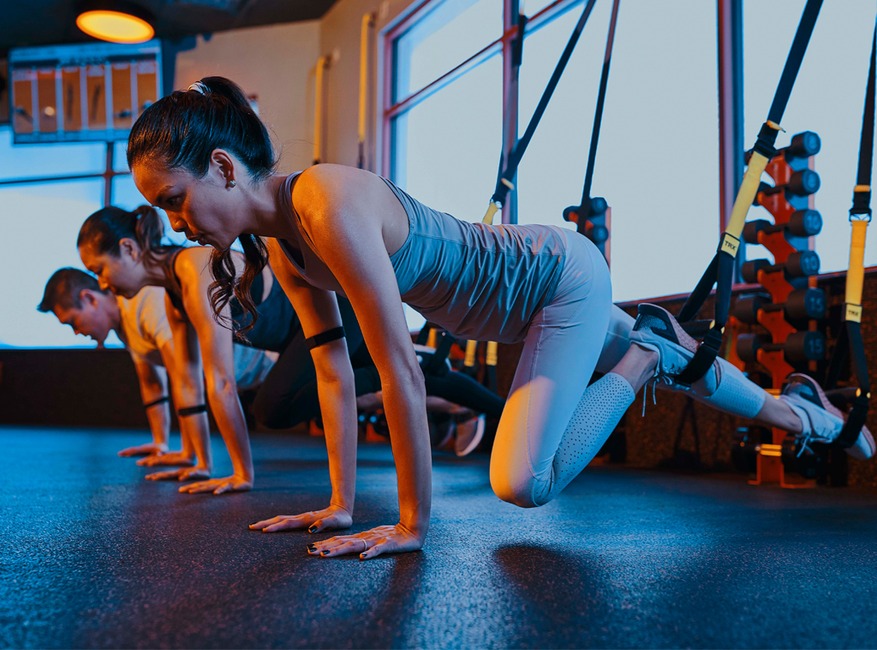 Orangetheory
Orangetheory
Part calorie-burning sesh, part experiment in ingenuity, the home-based version of the workout Josh Duhamel and Christina El Moussa love (available on the site, app and YouTube channel) replaces weights with household items (think: jars of pasta sauce, potted plants, suitcases) and treadmills, bikes and rowers with good old-fashioned cardio. But the heart rate-elevating, metabolism-revving mission remains the same. After all, the theory part of the brand comes from the science of excess post-exercise oxygen consumption that shows if you challenge your body properly, the calorie burn will continue long after you've put the weights down. (orangetheoryfitness.com)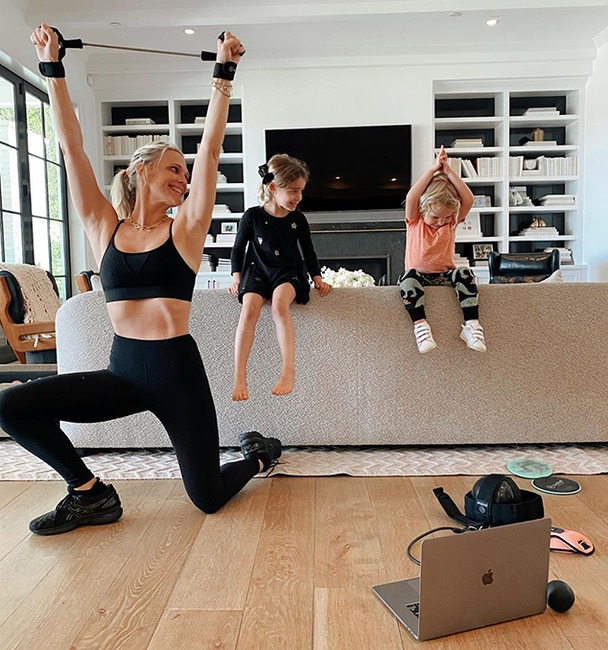 P.volve
P.volve
Make like Molly Sims and Jade Roper and stream this high-intensity, low-impact workout to your living room or backyard. (Child spectators optional.) A $20 monthly subscription (try a two-week trial for free) gives you access to 200-plus videos to sift through that you can sort based on target area (glutes are a popular option), time-commitment and what type of equipment you're able to scrounge up. Though their proprietary tools—key to delivering that sculpting burn—are available for purchase. (pvolve.com)
Article continues below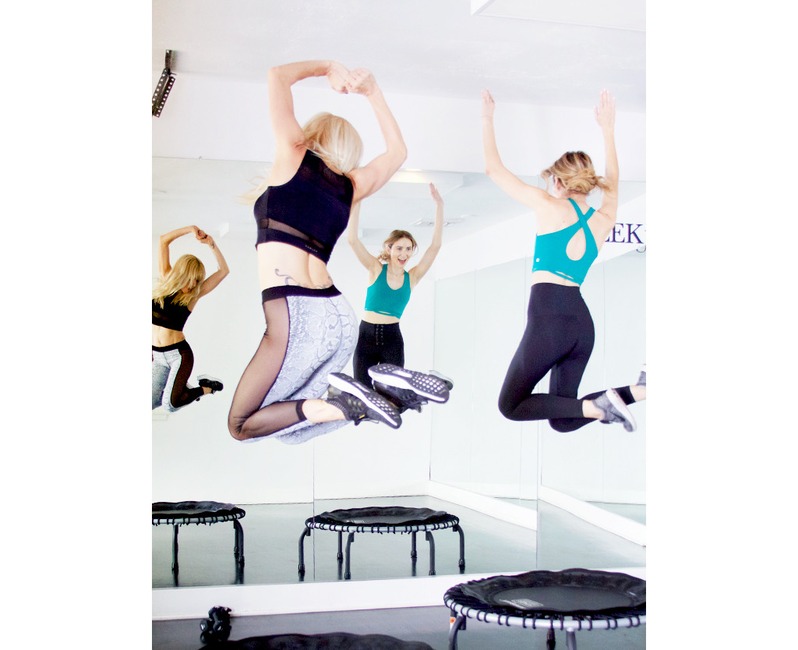 Jacqueline Lee/E!
LEKFIT
Even pre-quarantine, Kate Beckinsale was hyping founder Lauren Kleban as "a genius" for streaming her L.A.-based fat burning cardio and muscle toning workouts online, allowing the actress to bounce on her mini trampoline from the comfort of her kitchen. "It makes you feel kind of jolly," she recently told Women's Health UK. Find joy with a $20-a-month subscription (try it free for a week) that gives you access to three new 50-minute sessions each week: Boost, their full-body cardio and sculpting class, Hype, which offers the same benefits without the rebounder, and Define, an intense, muscle-elongating mat class. (lekfit.com)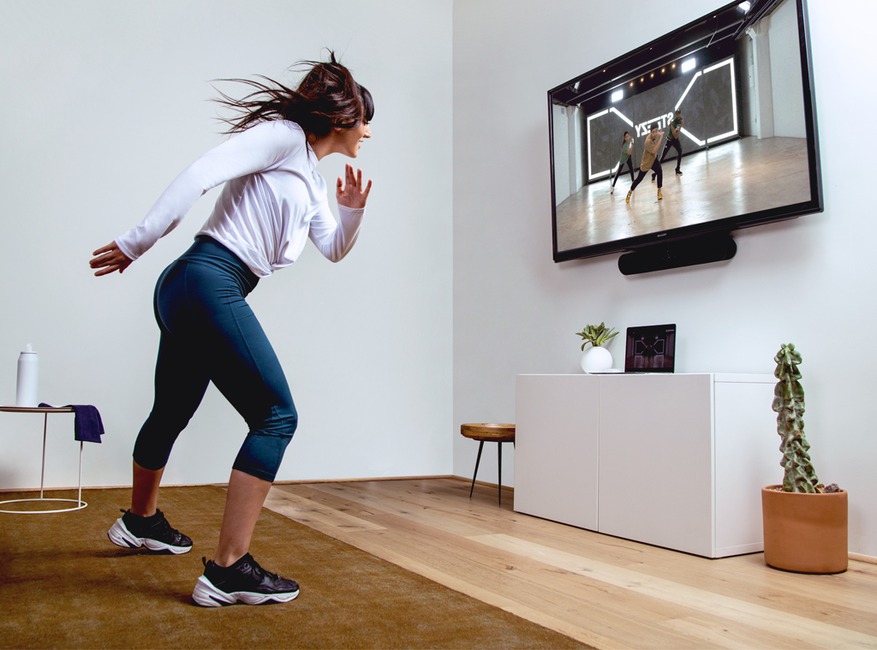 Steezy Studio
Steezy Studio
If ever there were a time to polish your TikTok skills, it's now and this studio is here to help. A $20-a-month subscription gives you access to a variety of on-demand digital dance routines (test your skills at everything from hip hop to krump to jazz funk) designed by the choreographers behind Justin Bieber, Jennifer Lopez and Justin Timberlake's best moves. You can also try your luck with a seven-day trial before committing to going full video vixen. (steezy.co)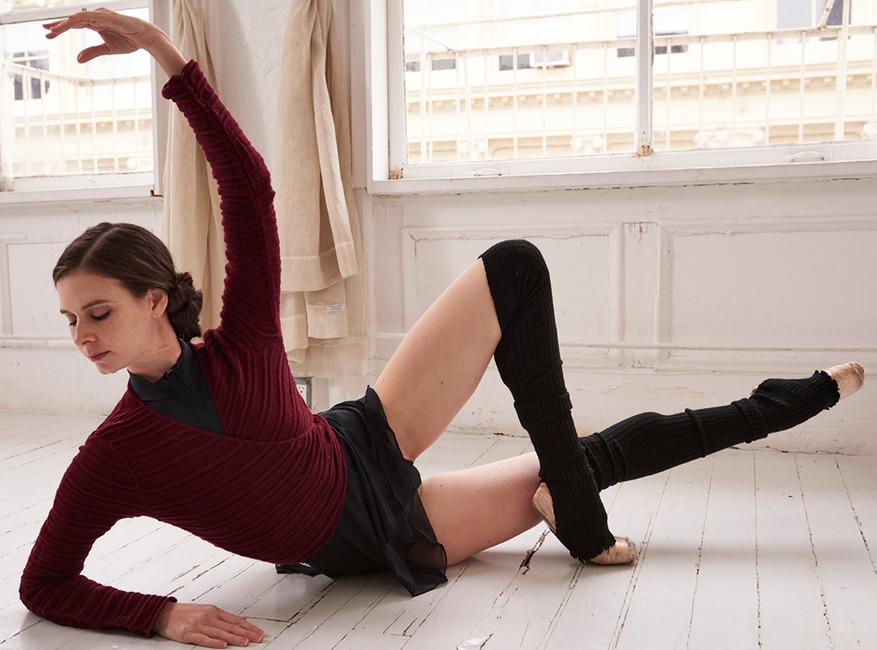 Ballet Beautiful
Neither ballet training nor proximity to the New York City studio is necessary to take part in the workout Natalie Portman used to get Black Swan-ready. (Though, by all means, slip on some leg warmers.) For more than a decade, founder Mary Helen Bowers, a former New York City Ballet dancer, has been offering up digital versions of her mat and toning exercises, barre work and ballet cardio routines via the internet. Miranda Kerr and Hailee Steinfeld jeté for joy over the $40-a-month subscription that affords access to the 300-plus videos that can be mixed and matched to help you meet your goals. (balletbeautiful.com)
Article continues below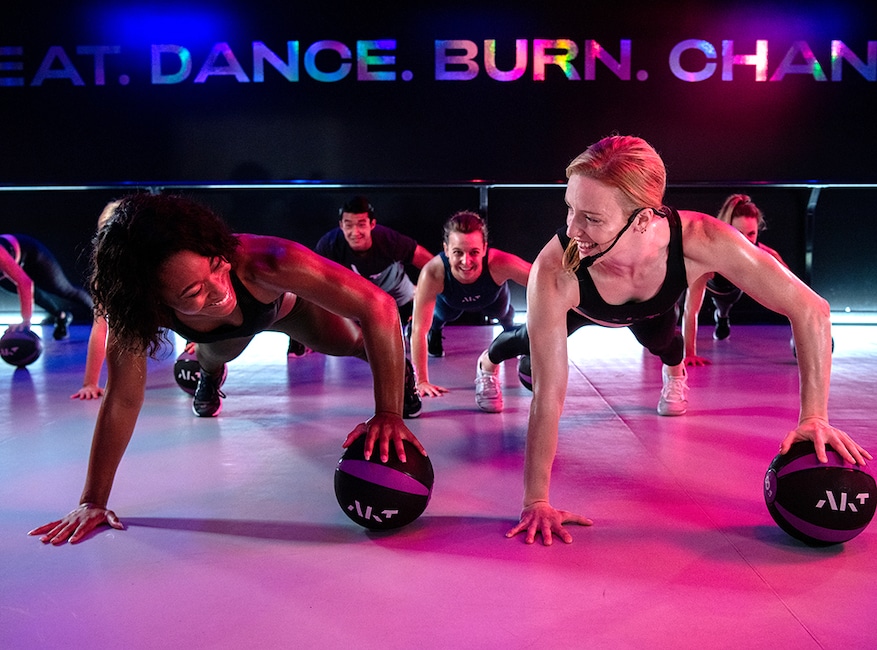 AKT
The secret to Shakira's abs and Kelly Ripa's toned guns is literally at your fingertips. With AKT GO, trainer Anna Kaiser shares her best interval, toning, circuit and dance-based workouts for you to sculpt your entire body whenever, wherever. (Which, right now, is at home, duh.) At the moment, new subscribers can knock $15 off the $35-a-month-fee and you can get a taste of what's on offer by checking out Kaiser's Insta feed. (theakt.com)
Source: Read Full Article