The following article includes references to addiction, mental health issues, and allegations of domestic abuse.
Sure, some people may think that "Jersey Shore" is completely fake and a slew of celebrities are anything but fans of the show, but the reality television series turned its cast into household names (and made them all millionaires!) because millions of fans simply couldn't get enough. Case in point: The show solidified itself in MTV history in December 2019 when it became MTV's most-watched series telecast of all time, per Entertainment Weekly, drawing in 8.4 million viewers to its Season 3 premiere.
The crew's over-the-top antics and GTL lifestyle kept folks coming back for an impressive six seasons, but for all the good times the guidos and guidettes had, there was also plenty of drama. Over the years, much of the "Jersey Shore" cast has tried to hide some seriously dark secrets, both on- and off-screen, and Ronnie Ortiz-Magro has experienced more turmoil than most. Between his tumultuous love life and his trouble with the law, Ortiz-Magro has sadly been making headlines for all the wrong reasons. Here is a complete timeline of Ronnie Ortiz-Magro's most notable ups and downs.
Ronnie Ortiz-Magro couldn't make it work with his co-star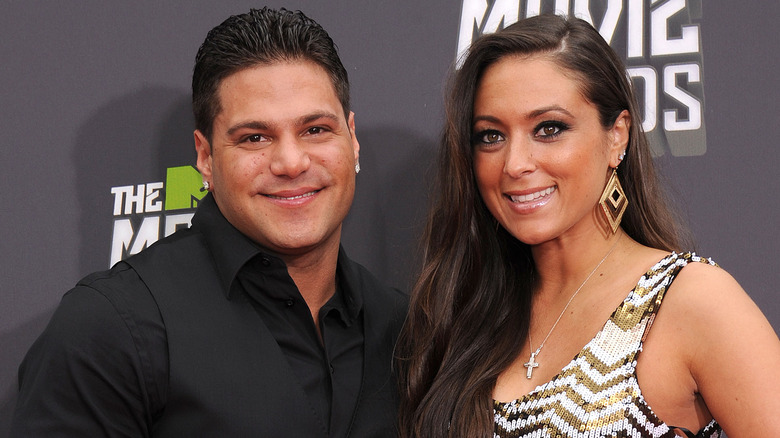 "Jersey Shore" fans will remember Ronnie Ortiz-Magro making an instant connection with Sammi "Sweetheart" Giancola on the show's first season, but they may not realize just how volatile the couple's on-again, off-again relationship became. Plagued by jealousy and accusations of infidelity, the pair aired much of their breakups and makeups on the reality series, including the ratings-made moment when Ortiz-Magro threw a bed Giancola was standing on. Theirs was dubbed "one of reality TV's rockiest romances" by E! News, but the drama didn't stop when cameras weren't rolling. According to In Touch, Ortiz-Magro once cheated on his girlfriend with another reality TV star, Morgan Osman of "Bad Girls Club" fame.
After eight years of trying to make their connection last, the pair called things off for good, but it wasn't until the premiere episode of "Jersey Shore: Family Vacation" in 2018 that we learned what finally drove them apart. "Once we left the shore house, me and Sam decided we were going to take the next step — we moved in with each other," Ortiz-Magro revealed, per People. Then, Giancola "gave me a timeline. She was like, 'I want to get married in six months,'" he said, adding, "I got cold feet. I wanted to do the right thing, but there was a part of me that was like, 'I'm not going to do the right thing.' So I didn't do it. I ended up cheating, she found out. I blew it. It's over."
Fatherhood brightened up Ronnie Ortiz-Magro's world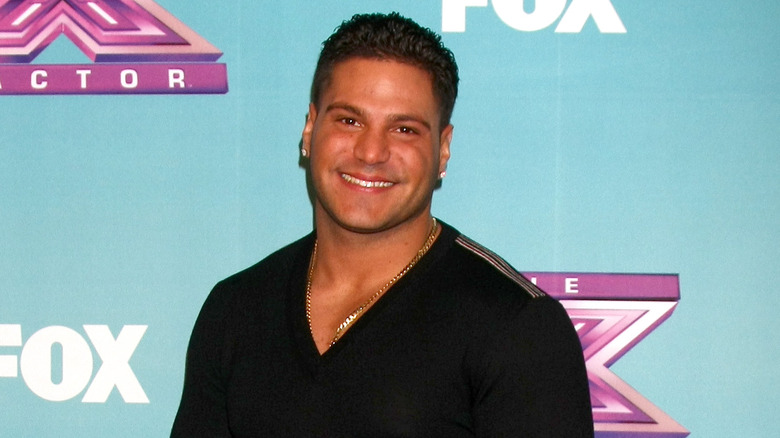 After calling it quits with Sammi "Sweetheart" Giancola, Ronnie Ortiz-Magro gave romance another try with Jen Harley. Things moved quickly and they took everyone by surprise when, in April 2018, they had daughter Ariana Sky, per E! News. According to one insider, the reality TV star was "over the moon" about becoming a first-time dad and he soon shared his elation on Instagram, writing (via Us Weekly), "So excited to be a #Father. Words can't describe the feeling. You live your life not ever really knowing the meaning of true love until you have a child." He went on to admit he had "tons to learn" but told fans he was "excited for this new journey & chapter in my life with my beautiful girlfriend & my daughter."
Unfortunately, things turned sour between him and Harley, but his devotion to his baby girl didn't waver. On a November 2020 episode of "Jersey Shore: Family Vacation" (via TooFab), he said that no matter what happens with his relationship with Harley, his child will remain a priority. "I always thought I had to have a perfect family to have a relationship with my daughter. I came to the realization I can have a family just with Ariana," he explained. As for co-parenting, he said, "It's not easy, it's not difficult, you get used to it." And although he moved from Las Vegas (where his daughter lives) to Los Angeles, he assured that he would do "whatever I gotta do for that kid."
After he 'hit rock-bottom,' Ronnie Ortiz-Magro sought treatment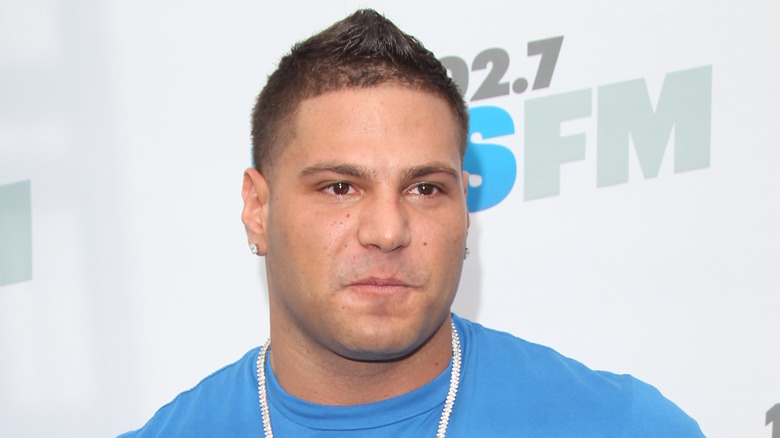 In February 2019, Ronnie Ortiz-Magro revealed to Us Weekly that he had quietly sought a nearly month-long treatment for depression and alcohol abuse. Explaining his decision, he said he "hit rock-bottom" and revealed he entered HeadWaters Origins in West Palm Beach, Florida because he "wanted to be a better person" and "a better father" to Ariana Sky. "Eventually, all the bad decisions I was making were going to lead me to places that I didn't want to be," he elaborated. "I wanted to be led to the place that I am now — that's happy, healthy and the best role model for my daughter."
Speaking candidly about alcohol addiction, he said, "I think it's a chronic disease. It's a progressive disease. I'm still struggling." He said in Us Weekly that he "turned to alcohol" when he "was in a place of depression," sharing that he was worried his actions and choices would impact his child. He was also inspired to seek treatment by castmate Mike Sorrentino who had himself gotten sober — "Mike definitely pushed me to get healthy" — and by "Jersey Shore" creator SallyAnn Salsano.
"Some stuff happened and [Sally] called me and said, 'They're fed up,'" he recalled to the magazine. "I was like, 'I'm fed up. I'm at my point where I can't take it anymore.' I just had to surrender and say, 'I don't have control over this. I don't know who I am anymore.'"
If you or anyone you know is struggling with addiction issues, help is available. Visit the Substance Abuse and Mental Health Services Administration website or contact SAMHSA's National Helpline at 1-800-662-HELP (4357).
Ronnie Ortiz-Magro gushed about Jen Harley hours before arrest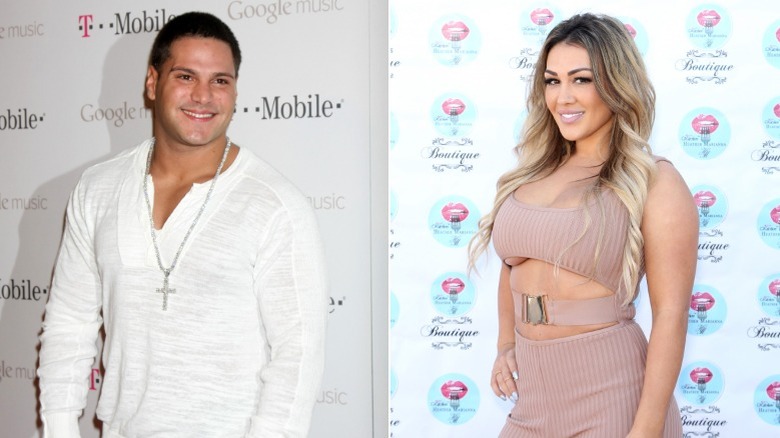 On October 3, 2019, Ronnie Ortiz-Magro and Jen Harley arrived at the Los Angeles launch of his CBD line, Verge, looking incredibly in sync. It appeared they had worked through their relationship issues and the reality TV star even told Us Weekly why he thought they were a perfect match. "Honestly, even though everyone thinks we're toxic, she really does balance me out," he reasoned, gushing, "She really does keep me level because with her I have her and the baby, which is a family, which is what I want at the end of the day."
Looking back at his TV antics, he continued, "The 'Jersey Shore' thing and being single, it will always be there. And Pauly [DelVecchio] and Vinny [Guadagnino] have proved that, like, 10 years later. It's not what I want, it's not what I want to strive for. I'm building a business so that I can pass something down to my kids, so that they can have something that I've never had and I'm not doing it for me." It was a sweet sentiment, but just hours later, things took a turn in the opposite direction when a heated argument between the pair resulted in cops being called to the scene and Ortiz-Magro being arrested.
Ronnie Ortiz-Magro was arrested for alleged kidnapping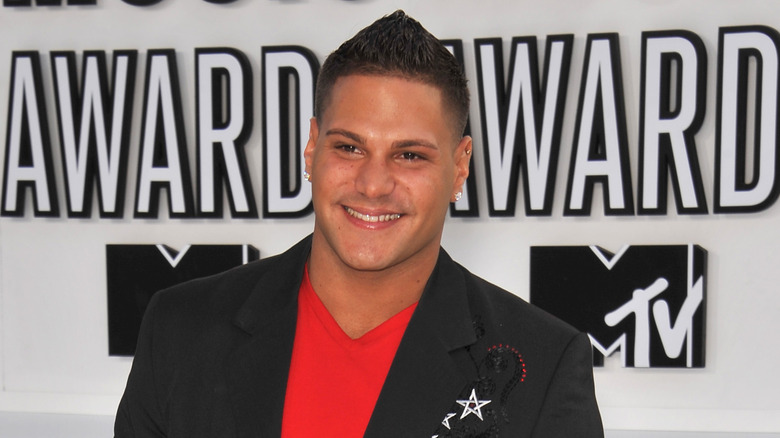 On October 4, 2019, just hours after he spoke lovingly about his and Jen Harley's great bond, Ronnie Ortiz-Magro was arrested by the LAPD when "officers responded to a battery in progress … at around 2:40 a.m.," per Us Weekly. According to TMZ, police were called to the couple's Los Angeles Airbnb after Ortiz-Magro allegedly struck Harley, then followed her out of the house, wielding a knife and holding an 18-month-old Ariana Sky. The Blast obtained LAPD dispatch audio in which neighbors say they heard screaming and Harley told them "someone had taken her daughter." Following the altercation, the "Jersey Shore" alum reportedly locked himself in the rental with Ariana and when police arrived, they had to break down the door. According to Us Weekly, he was "uncooperative" to the point that officers had to use a taser and, per TMZ, he was booked for kidnapping and released the following afternoon after posting $100,000 bail.
In the end, the kidnapping charge was dropped, but he did face seven misdemeanors, per Us Weekly, namely domestic violence, brandishing a deadly weapon, criminal threats, willful child endangerment, false imprisonment, and two counts of resisting arrest. In May 2020, he negotiated a plea deal to avoid jail time and was sentenced to 36 months of probation after pleading no contest to a count of domestic battery and a count of resisting arrest, according to TMZ. His sentence also included 30 days of community service, a $20k donation to a battered women's shelter, and a 52-week domestic violence program.
If you or someone you know is dealing with domestic abuse, you can call the National Domestic Violence Hotline at 1−800−799−7233. You can also find more information, resources, and support at their website.
Was Ronnie Ortiz-Magro bullied by Jen Harley?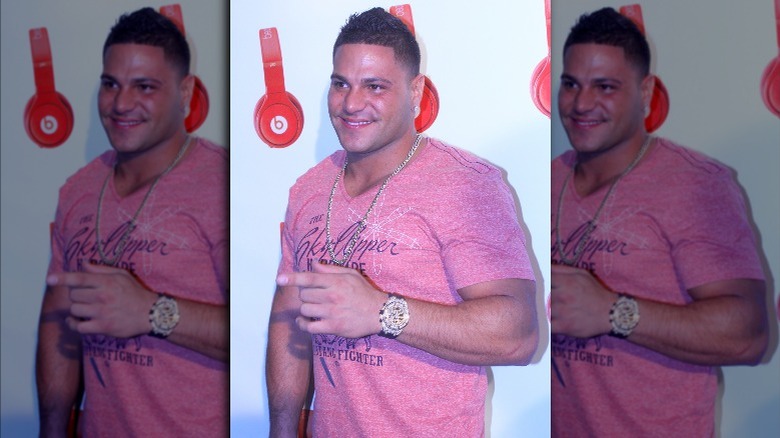 In December 2019, while under a domestic violence restraining order that stemmed from his October 2019 arrest, Ronnie Ortiz-Magro put Jen Harley on blast for keeping him away from his daughter (he could only see her with law enforcement present) while she herself wasn't watching Ariana Sky. Taking to his Instagram Stories (via People), Ortiz-Magro posted a number of screenshots of a conversation with a friend named Andrew in which the latter revealed that Ariana had spent the night at his house. Venting his anger, he wrote, "When the courts give full custody to a person who abandons their kids?!" Accusing his ex of leaving the state, he said that she "knows [Ariana is] crying and decides getting drunk with a sugar daddy is better."
In the Instagram rant, Ortiz-Magro said he would not "sit back" and let Harley "ruin my name, take my daughter, try to take my freedom with lies." He proclaimed, "I refuse to be bullied!!! I am a great father, an amazing person!" 
Claiming that his ex was spreading falsehoods about him, he added, "How many fake articles can one person wake up to? How many fake lies can one person deal with that my daughter will have to hear? How much emotional abuse, mental control can one person tolerate?" He concluded that by sharing his side of the story he was "sticking up for myself, my daughter and the people in my life that this mentally unstable person has been harassing & threatening!!"
If you or someone you know is dealing with domestic abuse, you can call the National Domestic Violence Hotline at 1−800−799−7233. You can also find more information, resources, and support at their website.
Did reality TV ruin Ronnie Ortiz-Magro's relationship with Jen Harley?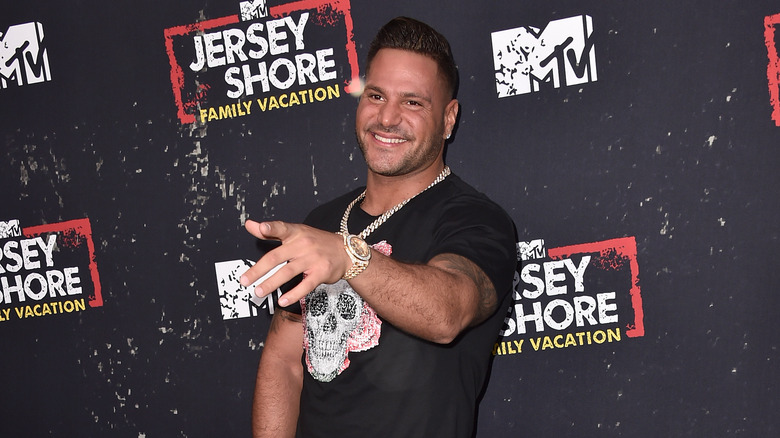 Ronnie Ortiz-Magro and Jen Harley have had, as People put it, a "roller-coaster relationship." It all started when "Jersey Shore: Family Vacation" viewers watched Ortiz-Magro spend time with a mystery woman and later admit he "made a mistake" — while Harley was pregnant. The reality star then turned things around on Harley and accused her of keeping explicit videos featuring her ex. As the outlet recounted, things boiled over during an Instagram Live in April 2018 when Ortiz-Magro was heard telling Harley to "put your hands on me again […] I dare you" before appearing to grab her phone, ending the stream. Throughout 2019, the couple continued to fight, split up, and make up while plenty of allegations flew, including Harley accusing Ortiz-Magro of drowning her dog. (A source told People that Ortiz-Magro found the dog in the pool and "isn't in the wrong this time.")
In April 2020, Harley told In Touch that "Jersey Shore" and its spinoff are to blame for their struggles. "I wish it was never part of our lives," she said. "It completely ruined our family, ruined the person I was in love with." She said part of the problem was that he could always share his version of events, "then it's seven other people backing his side and never once have I gotten the chance to defend myself unless it's on social media." 
Harley went on to say that the reality series has "caused so much chaos."
Did Ronnie Ortiz-Magro finally find the one?
Ronnie Ortiz-Magro is dating again and this time, he's sure he's found someone truly special in lash technician Saffire Matos. As the "Jersey Shore" alum told Us Weekly in November 2020, the pair met in Miami that February, then "we talked for, you know, for four or five months and we really did have a strong connection and bond." Admitting that the pandemic made things difficult, he revealed they "kind of rekindled things right before I went back to film with the guys" and now, things couldn't be better.
Saying that Matos is "special to me," Ortiz-Magro gushed that she "really does make me happy." He also made sure to highlight why he believes their relationship is nothing like his past (volatile) ones, saying, "It's different for me because I found someone that adds to my happiness." 
He continued, "She supports me. She loves me, you know, and that's something that I've always looked for. And I feel like that's [some]thing that I have not gotten in return and it's [some]thing that I've always given to other people." Adding that he's "in the happiest place I've been in a long time," he concluded, "You know, I feel like in the past I've always said 'I'm happy and I'm in a good place.' I feel like I finally really have found my happiness." As Us Weekly noted, Ortiz-Magro also shared a similar sentiment on Instagram, writing, "You can't force happiness, when you know it's real you realize it eventually chooses you!"
Ronnie Ortiz-Magro was arrested again after another domestic dispute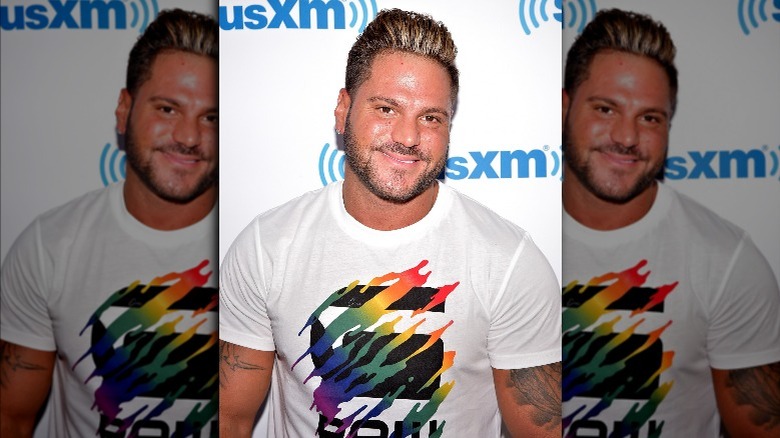 Ronnie Ortiz-Magro had another run-in with authorities when, in April 2021, he was arrested in Los Angeles following new allegations of domestic violence. As Us Weekly confirmed, he was booked by the LAPD for "intimate partner violence with injury with priors" and although his daughter was with him (like she was the first time Ortiz-Magro was arrested on similar charges), the incident didn't involve Jen Harley. This time, the altercation was between him and Saffire Matos who, according to TMZ, called police after an argument reportedly turned physical. She was allegedly left with visible marks and Ortiz-Magro was arrested and his bail set at $100,000, which TMZ reported he paid.
The following month, TMZ learned that he wouldn't be charged with a felony due to lack of evidence, but a misdemeanor or probation violation was still possible. In the end, it was only the latter that was being considered, per TMZ, and his attorney, Scott Leemon, told the outlet that his client was "currently seeking medical treatment for psychological issues that he has ignored for a long time. His only present goal is to address these issues professionally and make himself a better person and the best father he can be to his loving daughter," he concluded.

If you or someone you know is dealing with domestic abuse, you can call the National Domestic Violence Hotline at 1−800−799−7233. You can also find more information, resources, and support at their website.
A month after his arrest, Ronnie Ortiz-Magro posed with his 'wifey'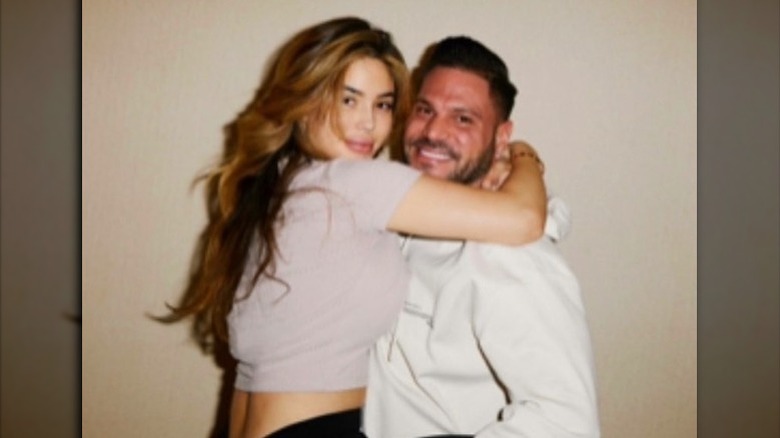 Ronnie Ortiz-Magro and Saffire Matos' explosive argument, which resulted in his arrest, appeared to be a thing of the past just days later when Matos took to Instagram to defend her partner on social media. On Instagram Stories, she wrote (via Page Six), "Ronnie and I are fine. There is a lot of misleading information floating around out there. With anybody who reached out with concern I appreciate it with all my heart, but everything that's being portrayed out there are not facts," she reassured her followers, adding, "Please leave Ron and I alone. You don't know what someone is going through at the end of the day. Don't believe everything you hear or read online," she wrote before concluding, "I'd appreciate privacy please."
The following month they were still dating and appeared happy as they shared photos of themselves embracing. Ortiz-Magro even chose a sticker that read "wifey for lifey" to accompany one of his posts, according to People. He also shared some lessons he learned following the arrest on Instagram Stories. "I am grateful for all of my real friends. Being by myself the last few weeks — I take all experiences as lessons," he wrote. "You learn who really cares about you when [you're] down and out […] I guess they call it the weeding process."
Ronnie Ortiz-Magro stepped away from MTV to 'get healthy'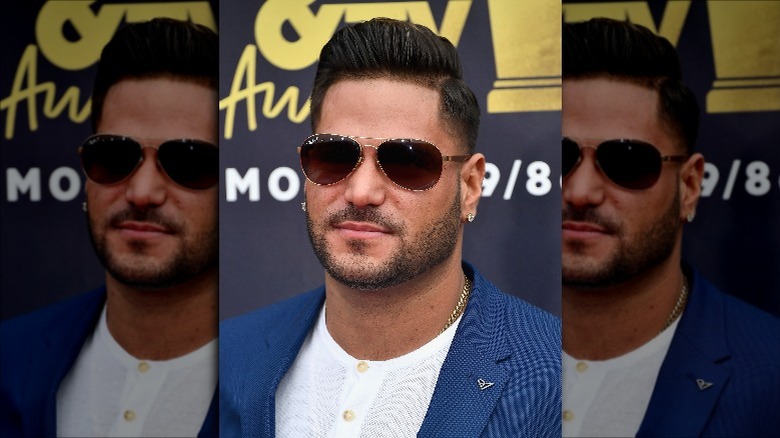 Despite an apparent reconciliation between himself and Saffire Matos, Ronnie Ortiz-Magro decided to step away from the limelight to address his inner demons in May 2021. Using an Instagram Story to make the announcement, he revealed that he would no longer be filming for "Jersey Shore: Family Vacation" so that he could instead focus on himself. "After talking to the team at MTV, we have mutually agreed that I will step away from the show while I seek medical treatment for mental health issues that I've ignored for too long," he announced, per Us Weekly. "My number one goal now is facing my struggles head on. This process will be difficult, but my #1 priority is to get healthy and be the best man and the best father I can for my daughter," he concluded.
The note came just a few hours after his attorneys, Scott E. Leemon and Leonard Levine, confirmed to Us Weekly that Ortiz-Magro had chosen to seek "medical treatment for psychological issues." Indeed, in June 2021, The Sun noted that he was visibly missing from new promo shots taken for "Jersey Shore: Family Vacation" and it is unclear if and when he might return to the show.
If you or someone you know is struggling with mental health, please contact the Crisis Text Line by texting HOME to 741741, call the National Alliance on Mental Illness helpline at 1-800-950-NAMI (6264), or visit the National Institute of Mental Health website.
Being on reality TV has been good to Ronnie Ortiz-Magro's bank account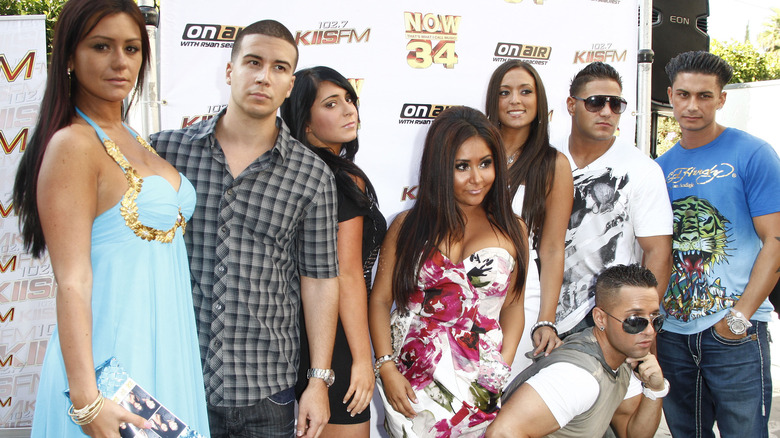 Becoming a reality star came with both challenges and perks for Ronnie Ortiz-Magro. While his ups and downs have been thoroughly documented, it's hard to deny that being cast on "Jersey Shore" changed his life forever as it delivered a big payday. While Ortiz-Magro, Jenni "JWoww" Farley, Mike "The Situation" Sorrentino, Nicole "Snooki" Polizzi, Paul "Pauly D" DelVecchio, Sammi "Sweetheart" Giancola, Vinny Guadagnino, and Angelina Pivarnick filmed the first season without a salary from MTV (they only earned what they made at the Shore Store and were paid to promote clubs, as Guadagnino once told Vulture), their salaries grew as the show's popularity increased. According to Life & Style, Ortiz-Magro was eventually being paid $80,000 per episode, then that figure reportedly jumped to $150,000 per episode as he brought more and more notable drama to the series. 
He embraced reality TV and also starred in 2017's "Famously Single" and in 2018's "Jersey Shore" spinoff "Jersey Shore: Family Vacation," which continued to add to his bank account. Along the way, Ortiz-Magro launched a T-shirt line and later a CBD company called Verge, and he also became a spokesperson for Xenadrine. As NJ.com reported back in 2011, in one ad for the diet supplement, Ortiz-Magro said, "I promised myself to never fall in love at the shore, but I love the boost I get from Xenadrine." So how much money has all of this earned Ronnie Ortiz-Magro? According to Celebrity Net Worth, he's currently worth $3 million.
Source: Read Full Article