When Love Is Blind premiered on Netflix, it kind of proved that true love exists, at least in some cases. Strong couples like Cameron and Lauren and Amber and Barnett came out of it. Plus it was pure reality entertainment in its purest form. And now, the couples that stayed together are (most likely) self-isolating together during this coronavirus (COVID-19) pandemic. This includes Giannina Gibelli and Damian Powers. In a recent Playboy essay, Giannina explained that they've already been through quarantine before.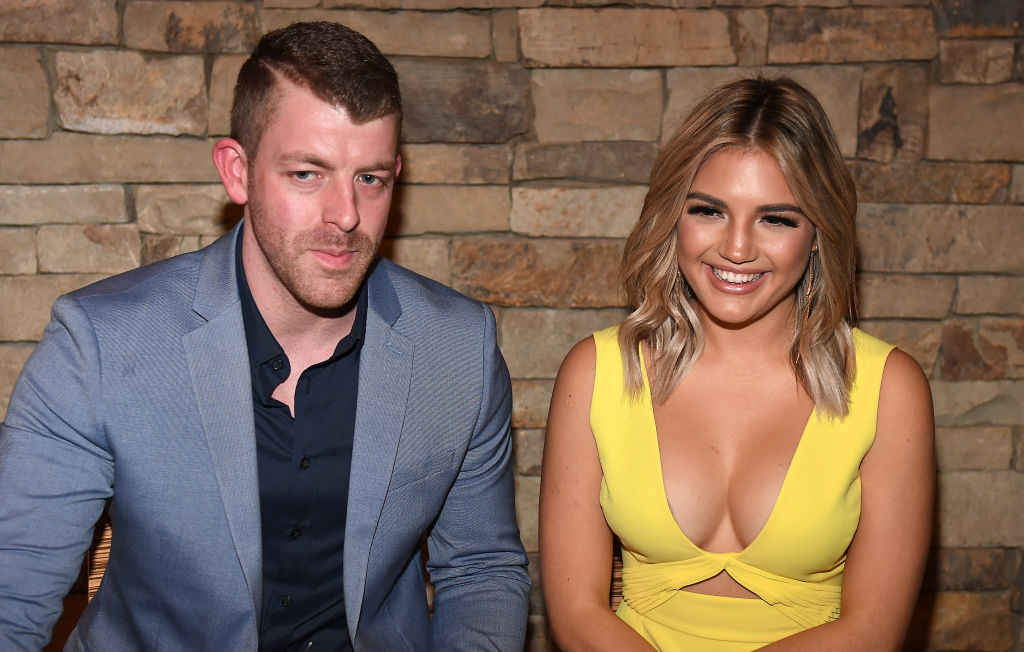 The 'Love Is Blind' star wrote that she's been through 'three quarantines,' so she knows the feeling
In a new essay for Playboy, published on April 24, Giannina wrote that she's been through a few "quarantines" already, and compared them to the current state of social distancing. 
"I've been through three quarantines now. The first was my experience in the pods," she wrote. "I was in a room by myself, separated from Damian by a wall, and I had nothing to fear or worry about. The second was after filming wrapped and I had quit my job, and Damian and I were taking a breather—I was bound up in fear."
People also reported, Giannina talked about the most recent quarantine, which she's spending sheltered in place with Damian. She called it a "combination of the two."
"I fear for our health, the impact on our world and how will we get out of it, but at the same time I now know how to use this time for good," she wrote. "Even though this quarantine is the scariest of all three, going through it with Dame makes it so much sweeter."
Damian called off their nuptials 
Even though the two are together today, the series showed that they actually broke up in the end and didn't go through with their wedding. Damian revealed on the Love In Sight podcast in April that it wasn't that he didn't want to marry her. It was that he wanted a foundation with Giannina first. The Love Is Blind timeline was really quick, and the couple had quite a few shaky moments. He wanted a stable relationship before they bound themselves to each other forever. 
Damian also shared that he didn't actually believe Giannina was going to say "I do," even though she told him earlier that she would. And as we saw on the show, she did.  
"It was honestly really hard for me to believe. We had a lot of ups and downs, you know. We had so many great moments that really weren't seen," Damian explained. "But I didn't really, when she said 'I do,' I was just… It's what I always wanted to hear. I always wanted to hear that. And I just, it was hard to accept that late in, for me to register then. And if she would have said 'I don't,' I would have still left with her. I would've been like, 'OK, let's do this together.'"
But things are smoother between them now
As stated before, they're both together now, and she wrote in Playboy how he's sweet to her and is like Noah (Ryan Gosling) in The Notebook. "He will show up on your doorstep with flowers, he will fix the wobbly leg on your dining chair without being asked, he will remember things you said two weeks ago to surprise you with something thoughtful," she wrote.
Love Is Blind was also filmed so long ago, that they've been together, post-show, for a about a year. She touched on that too and shared how they were able to build their lives away from the cameras. 
"The lights, the cameras, the action go away, and then you realize your soul is out there and about to be put on full display," Giannina said. "What's going to happen to my soul? I was petrified, but when our private-life bubble finally popped and the world saw my soul, the sense of relief made things better."
Source: Read Full Article