But Nick Cannon isn't confident hunger is the best motivation for an identity accusation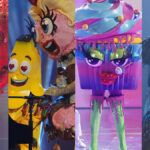 "Really?!?" Cannon says, standing by the Skunk and inspecting her more closely, clearly not impressed by Ken's guess.
"Just give me the Ear, Nick. I'll buy you a shirt with it, alright?" Jeong jokes, making Cannon — who is wearing a blazer with his bare chest underneath — laugh, and prompting Nicole to go, "Oh my gosh, Ken!"
Here's the official description for Wednesday's "The Masked Singer," which will feature the return of remaining Group A contestants Skunk, Bull, Hamster and Baby, plus the addition of a new Wildcard contestant: The "Group A" members return, and a new wildcard enters the game. The Season Six contestants boast a combined 85 Grammy Nominations and 27 wins, three Academy Award nominations, 12 Emmy Nominations, 12 Razzie Award Nominations, two Super Bowl appearances and two Lifetime Achievement Awards. Play along with America's favorite guessing game with host Nick Cannon and celebrity panelists Ken Jeong, Jenny McCarthy Wahlberg, Nicole Scherzinger and Robin Thicke. Find out who will be unmasked in the all-new "House Party" episode.
"The Masked Singer" airs Wednesdays at 8/7c on Fox.
Source: Read Full Article